Build Football Playbooks that
Work

for You
Teach your team's formations and plays in-app, with games. Understand which players know your playbook.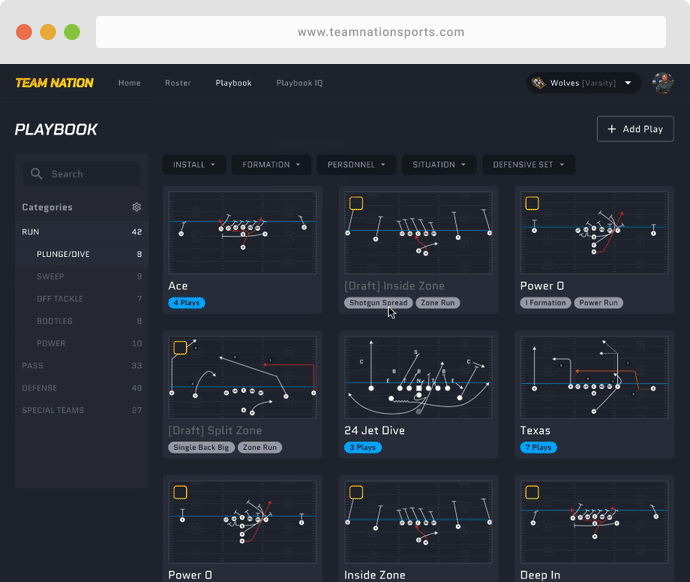 Innovate your playbook
Build plays with ease
Access our secure, web-based tool to create custom plays or pull from Team Nation's gold-standard football playbook library with detailed coaching points for team and individual position.
It's packed with pre-built, ready-to-use football plays drawn by former NFL pro players and coaches. Offenses within library of pre-built football plays include:
I-Formation

Spread

Wing-T

Double Wing

Triple Option
Your plays will automatically appear in your team's playbooks in the mobile app for playbook learning and in-app generated games.
​
Whether you coach pro, collegiate, high school, youth, or flag football teams, Team Nation has tools to give you back your valuable practice time.
Smart tech auto-creates playbook learning games
Once your plays are built, our smart technology turns your plays into competitive learning games without you lifting a finger.
See how easy it is to teach plays, starting in the coach dashboard.
When team members play learning games, a dynamic "player readiness score" is assigned and adjusts as they master additional plays in all 4 categories: Run Plays, Pass Plays, Defense, Special Teams
Check the leaderboard from the coach or player view to narrow in on player growth. You have full insight into who needs a bit more encouragement to study their digital playbook.
See who is ready for this week's game, adjust practice to focus on plays where your players struggle.
Understand team strengths & weaknesses
​​Team Nation Sports is committed to transforming how your team learns and experiences playbooks.
Team support includes:
Video tutorials

How-to guides

Support staff call/text

Onboarding specialists for college + pro

Playbook specialists access for college + pro

Content specialists for college + pro
Say hello to pro-level service & support
increase in student performance
using challenge-based gamification
87%
of students are more motivated than by traditional learning
Top 10
"must have" part of a learning management system
There's a better way to master playbooks. Be part of our VIP limited launch and lock in your rates with our *price lock guarantee.
Ready to ditch the binder?
Build plays, teach with games
This isn't just another online football play maker, it's gaming, team competition, and learning all while inching up the Team Nation leaderboard. Team Nation Sports creates games to teach the playbook using the 4 types of learning: Visual, Kinesthetic (hands-on), Reading/Writing, Auditory (coming soon).
It's a better way to teach and learn the playbook before hitting the field.
Welcome to the future of football!! Best thing to happen in a long time! What a great tool to help each player learn the playbook. I wish I had this when I played!
Chad Lewis | NFL Pro Bowl Tight End Philadelphia Eagles & St. Louis Rams
Share Team Nation with a Coach
Bring gamified learning and online playbooks to your favorite football team. Help a team master the playbook and athletes increase football IQ while they compete for top spots on the leaderboards—with one little referral.
​
Submit a coach's information. We can't guarantee brownie points, but every player (coaches and athletes) benefits by using Team Nation.