Easy playbook builder
Create custom football plays or pull from Team Nation's playbook library developed by pro players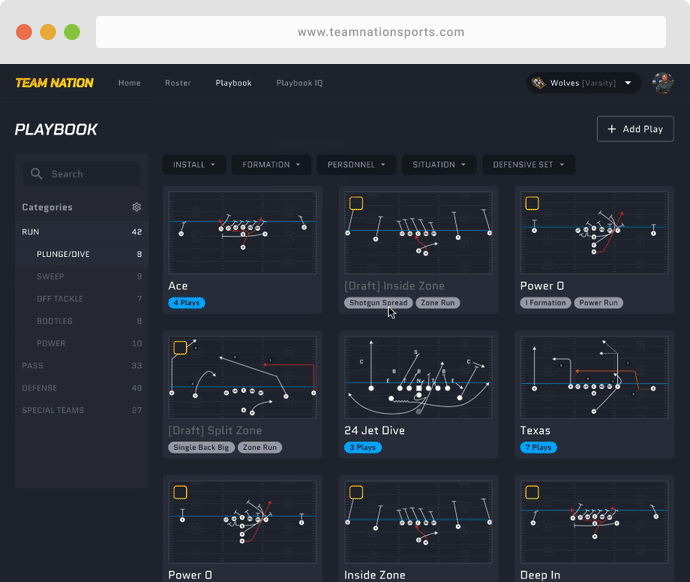 Playbooks are seriously simple with Team Nation
Control user access
Invite players & staff to the mobile app to learn and play. Remove access for anyone who leaves.
Real time reporting
Understand your team's strengths & weaknesses like never before with team and player readiness scores
Opponent preparation
Create custom installs to focus player attention on upcoming games
Team engagement
Build community and commitment through team interactions that extend outside of practice
"There are winners, and there are people who would like to be winners but just don't know how to do it. Intelligent and talented people who are motivated can learn how to become winners if they have someone who will teach them."

- Bill Walsh
When coaches use Team Nation as their online playmaker, teams get smarter, practice gets streamlined.
Athletes study the playbook and play in-app games (automatically generated from your plays and notes)

You can see who is putting in their mental reps. Just check your team's leaderboard for group stats and individual rankings
​
You'll understand how well your team knows next week's install and where to focus your efforts during practice.
​
Gamify your playbook,
Access actionable data
Must-Have Tool for Coaches
Take back practice time. Understand which players know your playbook.
Ready to Ditch the Binder?
There's a better way. Be part of our VIP limited launch and lock in your rates with our *price lock guarantee.